TikTok Ads is fast becoming a great alternative to Facebook- and Instagram- Ads. TikTok Ads have the potential to reach over 885 million people worldwide! And the good news is that bigger brands haven't yet driven up the cost of advertising on TikTok, so you should give it a shot even if your budgets don't match those of Unilever.
That said, don't take our word for it. To make an informed decision, you have to see how TikTok Ads work relative to all the other advertising channels. The way most of us do this is simply download key metrics from all our ad channels—Google Ads, Facebook Ads, and TikTok Ads—into a spreadsheet and compare them. This usually takes a bit more data wrangling than ideal, but today we will go through how to make that happen with minimal steps.
Here are the steps we will talk about today:
Step 1: Log into your Airboxr account.
If you don't have an Airboxr account yet, check out these steps. Once you have your Airboxr account set up, proceed to the Integrations page. It looks something like this.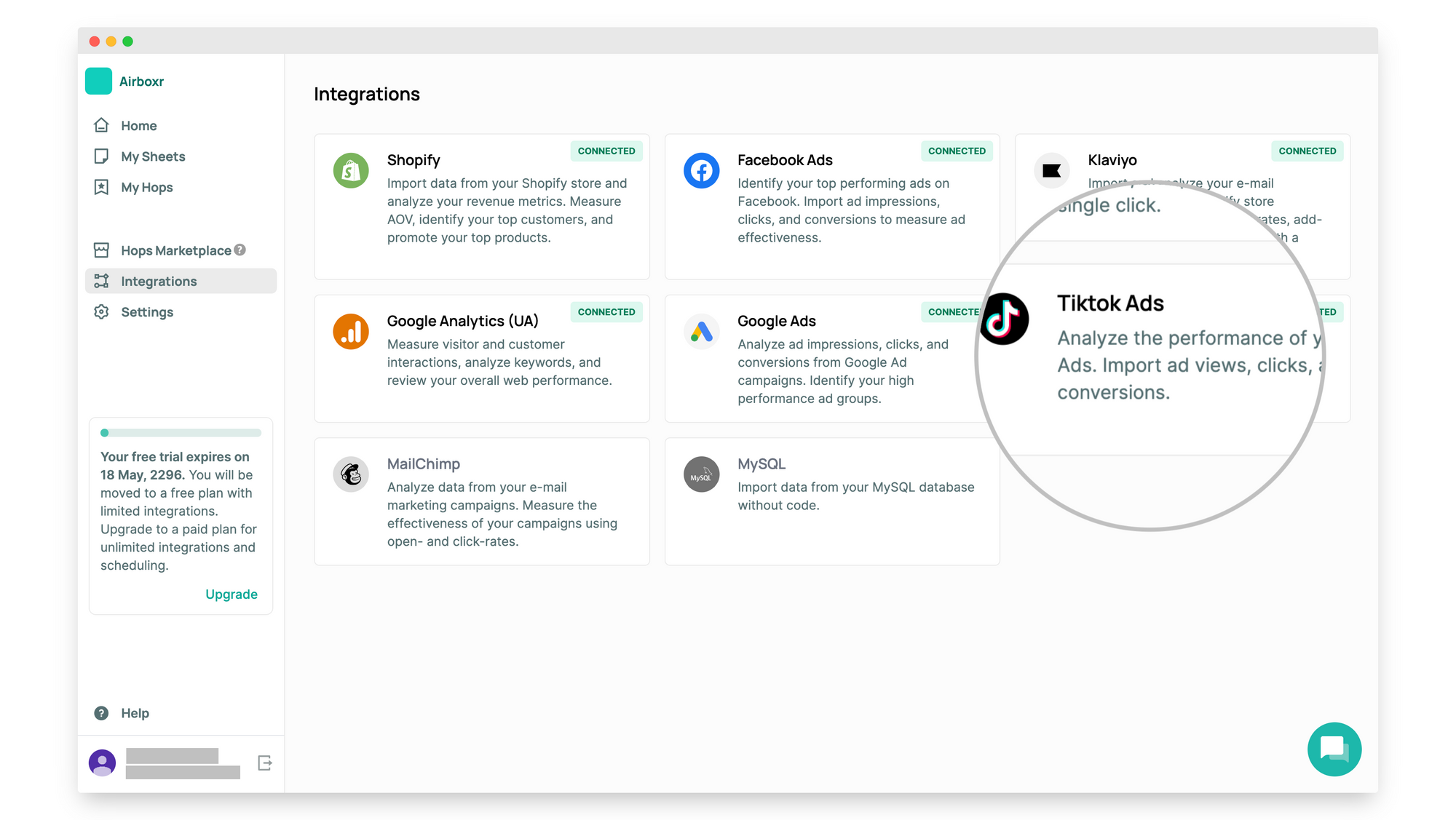 Step 2: Connect your TikTok Ads account.
Click on the TikTok Ads button on the page and you will be asked to log into your TikTok Ads account. Click the play button below for a step-by-step walkthrough.
Step 3: Run a predesigned analysis.
Now that you've connected TikTok Ads, you can customize and run any predesigned analytics. Go to the Hops Marketplace and filter for TikTok to get started.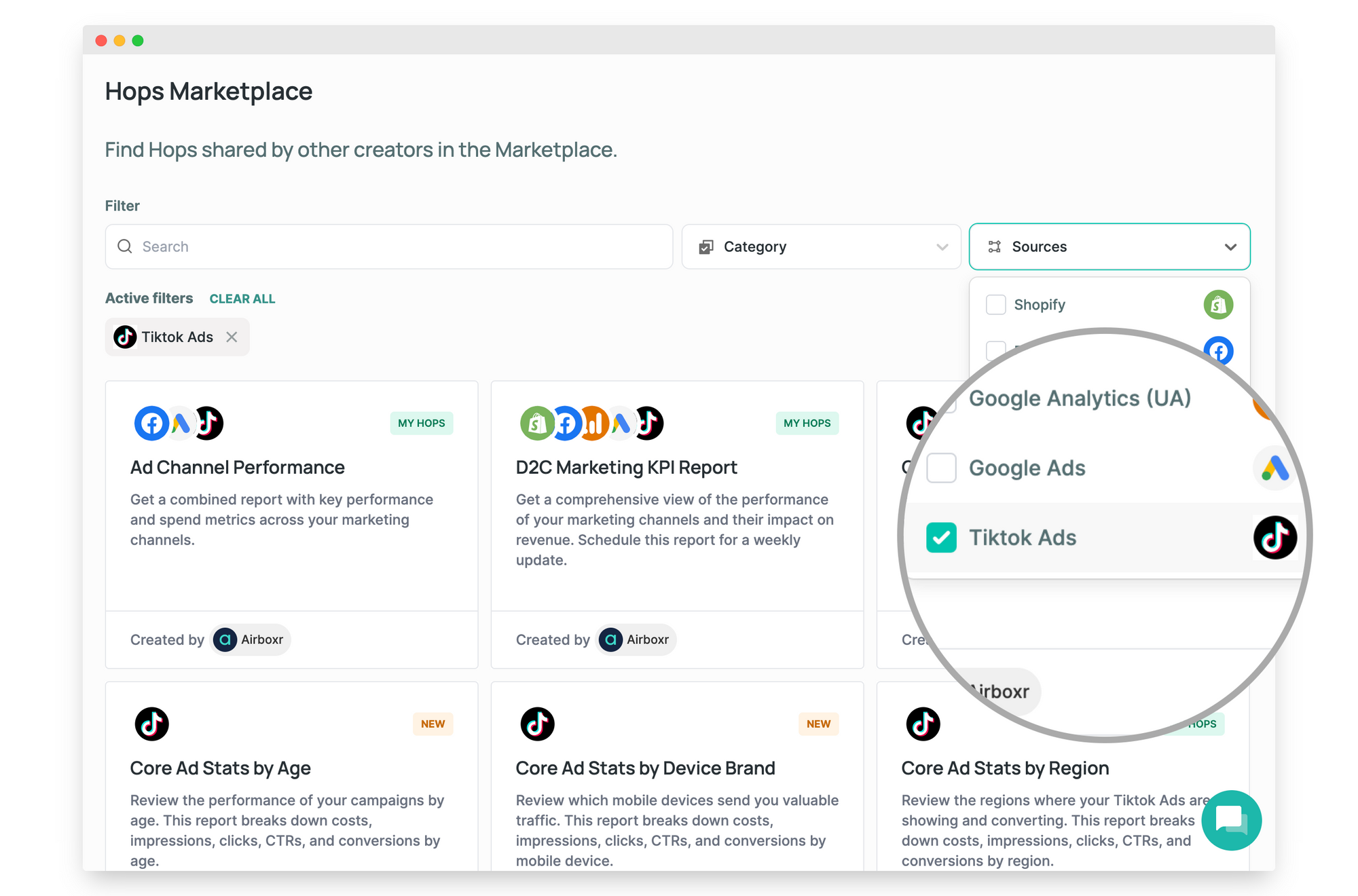 Simply click on any of the predesigned reports and add them to your collection: also called My Hops. This is your collection of analysis and reports you need to run from time to time.
Step 4 [Bonus]: Review your TikTok Ads performance.
I mentioned earlier in this article that you should measure your TikTok Ads performance relative to other channels. You could do this by downloading CSV files from all your ad channels, filtering for the same dates, cleaning the data to make sure that all the formats are correct, and then pasting the key metrics next to each other.
But that's not why you're reading this - you want to know how to do this conveniently. We'll show you.
To compare your TikTok Ads performance with Google Ads and Facebook Ads, first go to the integrations page and connect to all your ad channels. We are doing this because we also need to import data from those channels in order to compare their performance.
Once you have connected your data sources, add the Ad Channel Performance Hop to your collection (you can click here to add it quickly). When you run this Hop, you will receive a report showcasing how each ad channel performs across the same key metrics. Here's a sample screenshot of the output.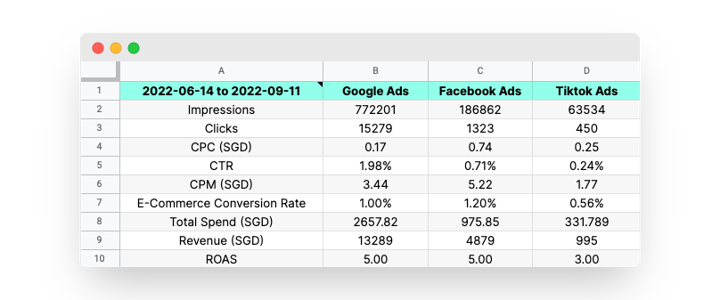 In the above report, pay special attention to:
Clicks—the more (relevant) people click on your ads, the more you build your remarketing audience. This can help you remind those visitors to come back and make a purchase.
E-commerce conversion rate—the higher the conversion rate is, the more relevant visitors the ad channels are bringing to your website.
ROAS—Return on Ad Spend is a key, but often misattributed, metric. It shows how much revenue you generate for every dollar of marketing spend. Keep an eye on this metric, but be cognizant of the fact that typically multiple ad and organic channels work in tandem to get you that sale. We suggest tracking MER (and not ROAS) to measure the performance of your marketing efforts.
Awesome! Now you have set up a report to measure all your ad channels (including TikTok Ads) in one place. We suggest scheduling this report to run once a week, so you can keep tracking how each ad channel is doing. Here's a quick video on how to schedule your reports.
Other TikTok reports you should try out:
You can also check out the full list of automated analysis. If you run a Shopify store and don't have an Airboxr account yet, start your free trial below:
That's it from me this week. Let us know if you have any questions by clicking the chat icon on the page. We ❤️ to talk.