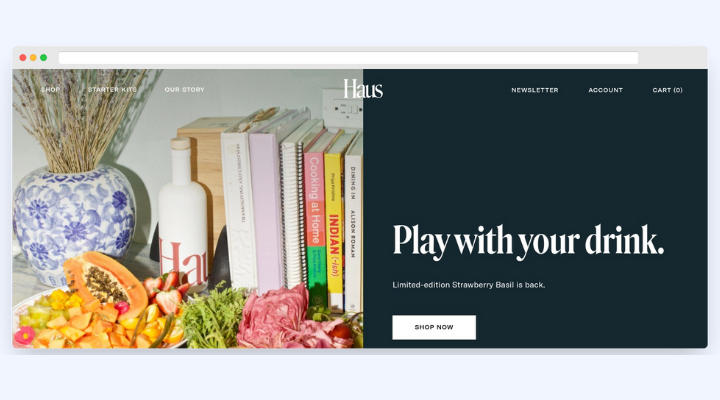 In June 2019, husband and wife duo Woody and Helena Price Hambrecht started a company they believed would disrupt the liquor industry - a DTC business selling aperitifs made from wine. By using chardonnay as the base of their cocktails, the founders were able to sell their drinks direct to consumer in most American states, under the same exceptions that apply to wine. Keeping the alcohol content of their drinks under 24% allowed their aperitifs to bypass regulations typically placed on traditional liquor companies. This first mover advantage is likely how the business was able to capitalize on a surge in demand for at-home drinks during the pandemic, allowing the company to grow their sales 800% in 2020.
While the company is still in its early stages, there is much we can learn from their growth strategies.
Let's take a closer look. 
Form mutually beneficial partnerships to build your brand.
In April 2020, Haus launched a new partnership programme with a sector that was struggling financially - restaurants and bars. Haus selected 9 restaurants across the US to collaborate and co-create products that could be ordered through participating partners like Soho House, Spoon and Stable, and StateBird Provisions.
While quarantines and lockdowns were keeping people at home and causing eateries to struggle, Haus saw an opportunity to help these businesses out by providing a new offering through e-commerce. This benefited F&B outlets by giving them more avenues to generate revenue, while simultaneously giving Haus an in with their existing clientele.
At the same time, Haus was able to leverage the narrative that they were helping struggling businesses - plugging their campaign to a greater cause that gave consumers more purpose in supporting the campaign.
Haus went above and beyond in customer service. Their relationships with the restaurant partners and the company's small size and agility allowed the brand to co-create cocktails with the restaurants to reflect their culinary approach. This meant restaurants have more to offer their customers, offerings would be unique and authentic to them, thus increasing the appeal to their loyal customers.
From the time of their founding until December of 2020, Haus was generating 100% organic growth. This trend in organic traffic continues today - in April 2022, ad-driven visits made up less than 2.5% of their total desktop visits.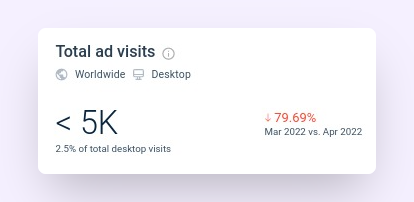 Maximise unique site visitors with diverse referral traffic beyond the immediate industry
In terms of their online strategy, Haus made sure to target a wider variety of audiences, allowing them to bring in more unique site visitors. They were able to do so through referrals from other websites from a variety of industries other than F&B.
Accounting for 11% of their total desktop traffic, referrals are Haus' third largest driver of site visits. What is unique here is the diversity of the industry distribution - seven of the ten top referral sites belong to different sectors. The range extends from, computers electronics and technology, arts and entertainment to business services amongst others.
Haus found ways to be featured on other websites in a variety of ways. One of their top referral sites, httpster, showcases best practices for site design across a variety of industries. Haus gets 7.95% of their monthly referral traffic from this domain. Another referrer sending the same amount of monthly traffic is awwwards, an award for design, creativity and innovation, where Haus was nominated and received an honorable mention.
Drawing users from a variety of different sectors increases Haus' exposure to new audiences. In the past month, 12.8k of Haus' 21k site visitors were unique.

Reinforce your user community offline to drive organic traffic
For Haus, membership to their brand's community is a key value proposition. During COVID, Haus hosted member-only online happy hours that were positioned as a way to circumvent the isolation of the pandemic.
Haus emphasizes the lifestyle aspect of their product by integrating education and membership invitations in "as many touch points as possible," to create a larger context for their product.
Haus leverages their membership program to expand their brand's relevance beyond the liquor industry into more aspects of their users lives. This community-centered strategy increases the likelihood for referral across different sectors, as well as encourages the brand to spread digitally and in-person through referral traffic and word of mouth.
Their membership program was launched as a part of a digital marketing effort initiated by Haus after they received $4.5 million in a seed-round investment fund in January of 2021. Shopify reports that returns on their ad spending at this time were 250%. By June of the same year their overall business had grown by 500%.
These members only, one-time events emphasize the exclusive and tight-knit nature of the community, and drive consistent organic traffic to their site.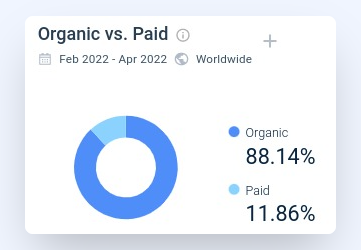 Today their organic traffic accounts for 88.14% of all site traffic. The Hambrecht's are publicly adament about their desire to cultivate organic traffic driven by word-of-mouth and keeping their ad spending as low as possible - not because they are concerned about budgeting, but because they believe this strategy to be more sustainable.
The Hambrecht's created Haus as a response to what they saw as a change in consumer desires when it comes to alcohol. Their product was invented to complement a new lifestyle, and their strategy revolved around fitting into this lifestyle wherever possible.