And why we are going paid.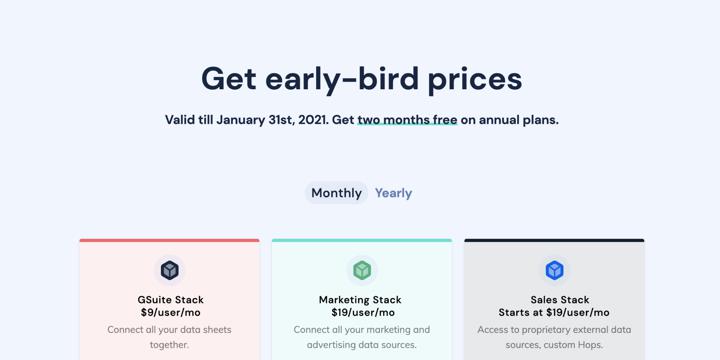 Going paid.
The new year is upon us. We started in 2020, right when COVID-19 was starting to spread across the world. We decided to hunker down and focus the year on building out a product that users love and worry about monetisation later. Now in 2021, 'later' is here and we're going paid to help us realize our ambitious goals.
We have ambitious plans for 2021. We want to change the way businesses analyze data within the tools they already use—not every entrepreneur, marketer, and salesperson has the time, money, and inclination to learn a new piece of software. So, we start with building our product for spreadsheets. With Airboxr, you can:
Analyze your data within spreadsheets without downloading CSV reports from all your tools and data sources
You can achieve much more within your spreadsheets without learning how to code
You can search for leads and even find contact details right within your spreadsheets
We are just getting started and we need your help to get us there. As an early-user, we look toward you for feedback and intelligence to help us move forward.
Our pricing starts at $9/mo.
Our pricing is based on the time and effort we save you. As an introductory price point, we are pegging ourselves to a very small fraction of the time saved—not even counting the earnings you receive from finding the right lead through our platform.
Our early-bird prices look like this:
$9/mo/user for the GSheets stack. This allows you to add as many GSheets as you need to design your Command Center. Save as many Hops (macros for Excel fans) as you want and run your repeated analysis in seconds.
$19/mo/user for the Marketing stack. This enables marketing users to also connect to Google Analytics and Google Ads. We will add a lot more integrations in this year to make your marketing analytics a piece of cake.
Starting at $19/mo/user for the Sales stack. This includes everything in the Marketing stack, but also allows users to search for leads right within your Google Sheet and even find their contact details.
Based on our conversations with individual users and research, the average marketing analyst in the U.S. spends time worth $6,000 a year (at entry level salaries) in simply collecting and cleaning data. By taking away some part of the pain, we can help companies save $6,000/year per analyst by making her more efficient. A Marketing analyst can have much more impact by spending less time on monotonous repeated work and more on designing impactful campaigns.
The impact is even higher for sales professionals. Sales professionals typically spend 12 hours each week searching for leads (prospecting). This includes finding the right people to target, shortlisting the most relevant leads, then finding their contact details. This is actually a really high-value activity because the sales folks know best who they can connect with. The problem is in finding them quickly and in bulk. This translates into about $20,000/year worth of salary-time spent on prospecting. At our introductory pricing, you will spend around $240/year (or a maximum of $1,200/year if you choose the most premium plan) in speeding up the prospecting process.
Short tldr:
You spend $240/year to save ~$6,000/year in time.
You spend up to $1,200/year to save ~$20,000/year in time.
These early-bird prices are available for a specific time period only, at least until January 31, 2021.
If you have a forever-free account, you will shortly receive an e-mail confirming your access. You can still contribute to our goal through a donation, but it is not essential to keep your access.
If you are not yet ready, you will always have access to our freemium plan. The freemium plan allows you to add three GSheets data sources and save three Hops.
Why we need to be a paid service.
Going paid will help us determine the right path for the business. Our product will only be as good as the team members we are able to hire. Not only that, they need to be excited enough by the prospect of building the next generation of "last mile" analytics tools. Good people don't come cheap, cheap people (sic) don't always make the best products.
We have ambitious plans for the year, here are a few things we plan to do:
Launch more marketing and sales integrations (including Facebook Ads, Twitter Ads, Hubspot, Slack, Xero, and many more)
Allow users to share their Hops with others in their team
Enable users to enrich leads and send lead data to CRMs
Feedback from paying users will help us shortlist and prioritize the steps we take. We are (and likely, will continue to be) a small team and need to take calculate bets based on feedback from users such as yourself.
We hope you will join us in the journey.