If you are in sales or marketing, this is a common problem you have to solve for. A user signs up on your website using their business e-mail. Now, you need to find more information on their business using their domain name. For instance, you might want to check what technologies they run on (using Builtwith.com) or find more people in their company (using LinkedIn or Clearbit.com). In any case, you need to extract the domain name from their e-mail address.
Here is what you can start with: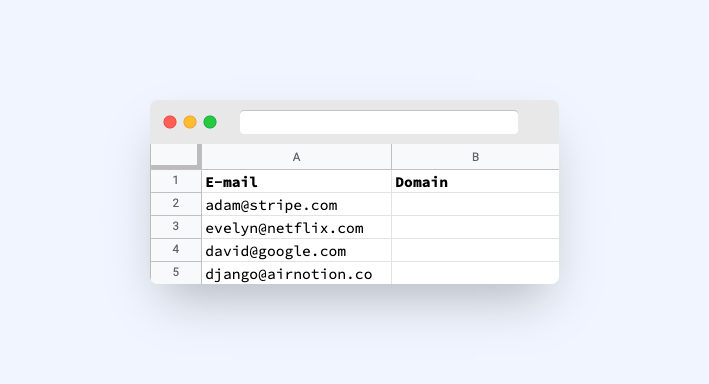 You have a list of e-mails on columns A. We now want to extract the domains on column B. To do this, we will use a mix of the RIGHT, LEN, and FIND formulas. Simply copy the formula below and paste it into cell B2.
=RIGHT(A2,LEN(A2)-FIND("@",A2))
Here is how it looks in action.
That's it! It's that simple! 🎉
Next, if you would like to enrich the domains with company information (such as size, industry, and headquarter location), you can use Airboxr to do so in a few clicks. Here is a video showcasing how.
Give it a shot yourself. If you haven't installed Airboxr yet, install it for free here.